Tekken 5 Story
Son of Heihachi Mishima and the one who possesses the devil gene, Kazuya Mishima...
During the King of Iron Fist Tournament 4, Kazuya suffered a defeat at the hands of Heihachi and later Jin at the Honmaru. When he finally regained consciousness he was surrounded by a Jack-4 squad.

"G Corporation! So they plan to take me out too"

Kazuya teamed with Heihachi to fight off the successive waves of Jacks until he saw his chance and left the Honmaru without Heihachi.

He morphs into a devil and takes flight just as the Honmaru explodes. Kazuya, determined to exact revenge on those who betrayed him, decided to enter the King of Iron Fist Tournament 5.


Tekken Appearances
Tekken 1, Tekken 2, TTT, Tekken 4 and Tekken 5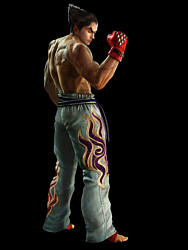 jin k.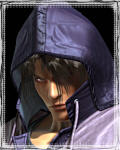 devil-jin


Jin Kazama_
Tekken 5 Story
Jin Kazama, son of Kazuya Mishima and Jun Kazama.
After the grueling battle between Kazuya and Heihachi Mishima, Jin takes flight, leaving Honmaru behind. He is overwhelmed by an evil presence and loses conciousness.

Jin wakes to an unknown voice and sees a mountiain forest, which appears to have been ravaged by a giant tornado.

However, Jin had no doubt that he was responsible for the destruction. Upon returning to Yakushima, Jin was plagued by reoccuring nightmares. Jin could feel the influence of the devil gene growing stronger.

"It is only a matter of time before I am completely overcome by the devil gene".

Although he has no direction, Jin begins his journey guided only by fate...


Tekken Appearances
Tekken 3, TTT, Tekken 4 and Tekken 5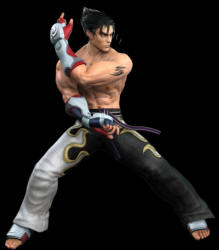 Devil Jin_Tekken 5 Story
The Devil gene now controls Jin Kazama. Jinpachi Mishima was set free after Hon-maru's structure was destroyed. The Devil gene inside Jin intensified after sensing Jinpachi's presence.
Two months later, the Devil gene had completely consumed Jin. He now know's nothing of good, only evil.


Tekken Appearances
TTT and Tekken 5




Portrait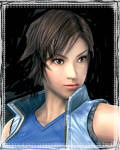 Tekken 5 Story
Ever since she was a child, Asuka had received training in Kazama Style Traditional Martial Arts from her father. Born with a strong sense of justice, Asuka was well known around Osaka for breaking up fights in the neighborhood.
Upon returning home one day, Asuka found pupils of her father had been roughed up. She learned from her father's pupils that an unknown Chinese man showed up at the dojo, severly beat them and sent her father to the hospital.

Several days later, an interpol detective from Hong Kong came to investigate the incident, mentioning that the suspect is most likely planning to enter the King of Iron Fist Tournament. Upon hearing this, Asuka decides that she too will enter the tournament.


Tekken Appearances
Tekken 5


Portrait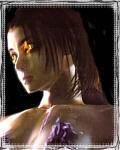 TTT Story
Unknown is the final adversary faced in the Tekken Tag Tournament.She seems to be possessed by a demonic looking wolf spirit.She also bears the same tattoo marking that Jin Kazama does.Who she is is currently a mystery but maybe we are closer to finding out than we think!!!

Tekken Appearances
TTT